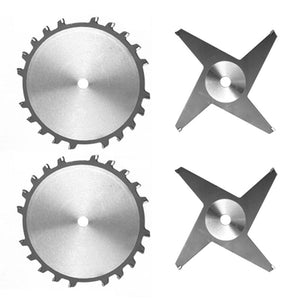 8" x 20T -5 Hook 4 pc w/ Shims Triple Play Dado Box Joint Set
The Triple Play Dado and Box Joint Set Performs Three (3) tasks:
Cuts a perfectly Flat Bottom 3/16" dado groove.
Cuts five (5) perfectly Flat Bottom finger joint grooves 3/16" - 1/4" - 5/16" - 3/8" - 7/16"
Using shims, cut metric width grooves for undersized plywood and melamine for drawer bottoms.  Note that additional shims may be required to cut your specific groove width.  Call us to discuss your application.
Cut a clean, flat bottom groove on solid wood and plywood for cabinet making.  A -5 degree hook angle helps minimize chipping and tear-out. 
The Triple Play set comes with:
2 each - 20-Tooth outside saw blades
1 each 4-Tooth 1/16" chipper 
1 each - 4-Tooth 1/8" chipper
Metal Shim Kit:  2 pcs each .005" (.127mm), .010" (.254mm) , .015" (.381mm), .020" (.5mm)
The metal shim set is provided for minor adjustments due to varying plywood thickness speccifications. 
---
We Also Recommend